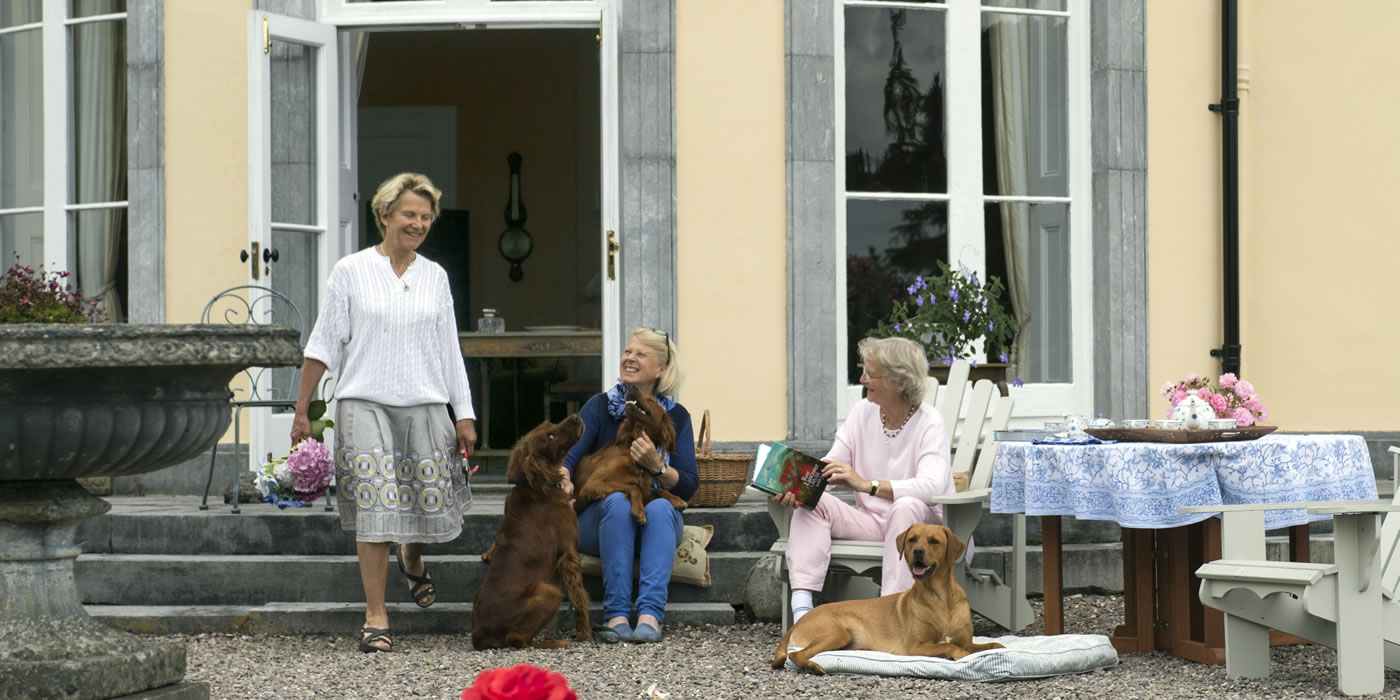 TOURIN HOUSE & GARDEN
Situated on the banks of the river Blackwater with a fine view of the Knockmealdown Mountains to the North, Tourin is surrounded by arable land and a fifteen acre garden with mature broadleaved trees and a fine collection of shrubs and plants. An Italianate style villa with classical proportions, Tourin House is home to the Jameson family, of Irish Whiskey fame. The present generation Kristin, Andrea and Tara are all three artists and passionate gardeners.
The original dwelling place is Tourin Castle, an imposing tower house dating to 1560. Tourin was bought by Richard Musgrave in 1780 and in 1840 his grandson built the more spacious and classically proportioned Main House at Tourin.
At this time the existing garden was enlarged and redesigned. A long formal Broad Walk leads from the House to the pleasure grounds and beyond there to the walled garden, which originally belonged to the tower house. Successive generations of the Musgrave and Jameson family (Joan Jameson married Tommy Ormsby Jameson in 1920) have left their mark on the garden. The present owner's mother, Norwegian born Didi Jameson, was a keen plants woman and the fine collection of trees and shrubs that she planted have now reached maturity.
The Broad Walk leads to the more informal path of the pleasure garden past a colourful array of plants, shrubs and a rock garden to the walled garden, which has supplied the family with fruit and vegetables for generations. Today the Walled Garden is a mix of ornamental and productive planting and is at its best and most colourful in midsummer.
The gardens at Tourin cover over 15 acres including the main garden, walled garden, and extended broad-leaved woodland walks, which lead to the banks of the river Blackwater and Tourin Quay.
Visitors are welcome to Tourin, where history meets the present day. Take your time to enjoy this beautiful and tranquil Irish haven and take a moment to watch the flight of the swallows in summer, listen for the song of the thrush and other birds